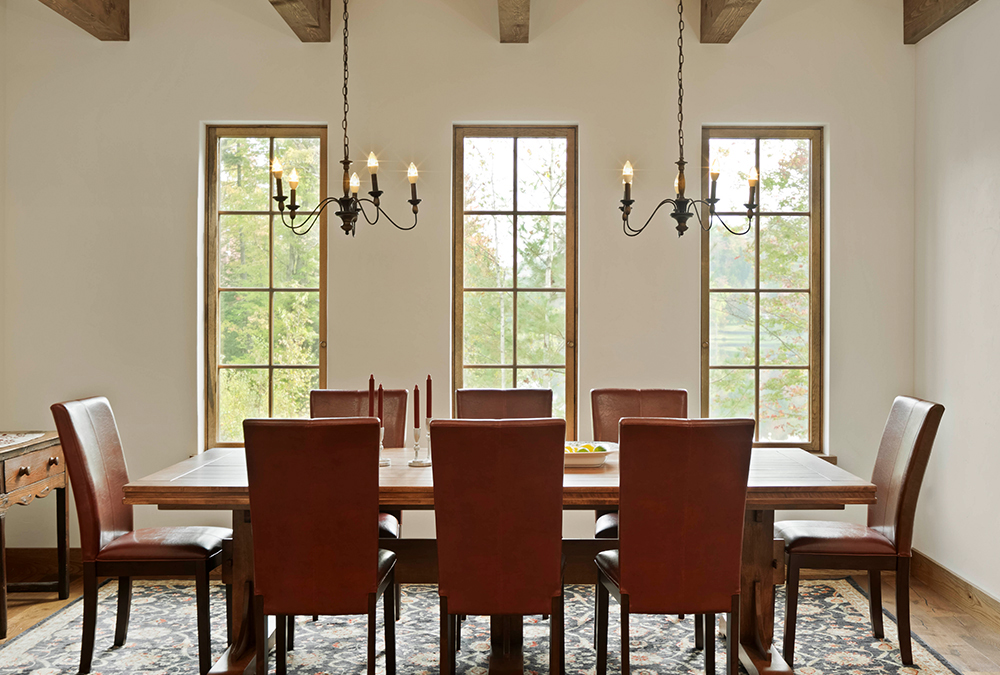 The search for a pristine Vermont lakeside location came together on the shores of Lake Eden, a setting that would allow these clients to fulfill their dream of living in a traditional Scottish Stone Cottage right here in Vermont. This quiet, secluded spot at the end of the lake, situated off a very long driveway, seemed the ideal setting for a very specific vision to come to fruition; especially since it allowed for easy access to some of Vermont's finest activities, such as skiing, boating, and fine dining.  After traveling throughout Scotland researching the true historical form and discipline of the 16th century residential architecture, the clients knew exactly what they were looking for.
From the dual wood burning masonry fireplaces, one for gathering the family and the other for cooking, to the formal dining, and the more casual eat-in kitchen, this home encompassed all the elements of a traditional Scottish Stone Cottage while offering modern amenities. A strong visual connection to the Lake from all rooms as well as a subtle and respectful landscape architecture were pivotal exterior features required to meet the client's goals on this project.
Respecting the pristine shorelands of Vermont Lakes was not only important to the client on a personal level, it is a requirement of the State through the recently enacted Shoreland Protection Act. Through a clear understanding of the regulations, we were able to accomplish the goals of the project while at the same time protecting the pristine shoreline - the primary reason the clients were drawn to this particular site.
"We selected Volansky Studio to work with us to design a very specific architectural style for our new lake home in Vermont. Since this is a dream home for us, the choice of an architect is key. We were more than thrilled with the results. Andrew Volansky and his team, notably Kathleen Thatcher, are wonderful to work with: creative, innovative, flexible, budget-conscious and responsive. What we liked best was that they listened to us and actually heard what we wanted. Our dream was translated beautifully to a well-organized, functional and amazing design, so much so that the rendering is a near-photographic version of the finished product. We have and will continue to recommend Volansky Studio to others." - Homeowners
See the Exterior of the Cottage
RETURN TO GRID